Mario is a all round character who can lock down oponents and pull off impressive combos. His CPU can be difficult to beat, but if experianced, he can be beaten.
==Mario's Moveset
==

Fireball-  Projectile that can be used at anytime. It can keep oponents away at times.
Coin Punch- This is used mostly for counter attack moments as well as amazing knockdown.

Mario Tornado-
The Mario Tornado is used to be basic attack that can send an oponent back at their original position.
Super Attacks
Edit
Super Star- This makes Mario invinsible for a limmited time.
Super Hammer- Takes a lot of damage in a few seconds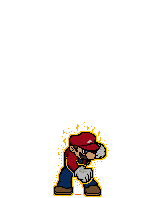 Super Flame- Does a ton of damage if up close, it is hard to escape if opponent is close. 
Ad blocker interference detected!
Wikia is a free-to-use site that makes money from advertising. We have a modified experience for viewers using ad blockers

Wikia is not accessible if you've made further modifications. Remove the custom ad blocker rule(s) and the page will load as expected.